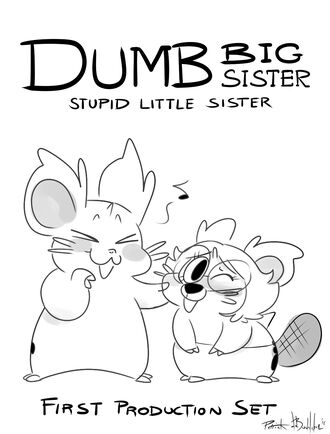 Dumb Big Sister, Stupid Little Sister is a companion series to Alternate Universe, and it focuses solely on the Schneider family. Specifically, it follows the events of Nini Schneider as she grows up to become the cool big sister that she is today, as well as Didi Schneider, the younger sister who adores Nini with all her heart. The title is self depreciating, as Nini and Didi aren't actually dumb nor stupid respectively, but tend to call themselves that to justify their silly, disruptive and self humiliating behavior (all in good fun, of course). The stories are cute and have a lot of heart, and make an effort to characterize the Schneider family beyond what the main series is capable of. The series is made up of production sets, and during each one, the characters grow up from the beginning of the set up until the end of it.
The First Production Set began and ended in 2015, starting with a short trial run. The Second Production Set began on January 12, 2017, and ended May 17, 2018.
You can read the Dumb Big Sister, Stupid Little Sister comics by following this link.
First Production Stories
| Episode Number | Set Number | Title | Production Set |
| --- | --- | --- | --- |
1
1
"UGLY"
P.S. 1
Nini reacts to her newborn sister, Didi.
2
2
"BALL"
P.S. 1
Nini tries to play catch with her baby sister.
3
3
"BROKEN"
P.S. 1
Nini gets the feeling Didi might be defective...
4
4
"BEAR"
P.S. 1
Being very young, Nini and Didi mistake a woodland bear as a beloved, timeless character.
5
5
"BAWW"
P.S. 1
Nini and Didi both react to their newborn sister, Oni.
6
6
"BONDING"
P.S. 1
Nini and Didi have a bonding moment.
7
7
"BUTTHAND"
P.S. 1
Now in kindergarten, Nini shares what she learned in school at the dinner table.
8
8
"FISHING"
P.S. 1
Pop Pop impresses (and mortifies) the girls with his fishing abilities.
9
9
"PRESENTATION"
P.S. 1
For a school presentation, Nini brings in both of her sisters.
10
10
"'CROSSBOW"
P.S. 1
Small children shouldn't be playing with crossbows...
11
11
"IDENTITY"
P.S. 1
Nini takes advantage of the fact that she and Didi share the same first name of Nidoran.
12
12
"COMPASSION"
P.S. 1
When Didi does something that she wasn't supposed to, Nini handles the situation in a very precious way.
13
13
"SHIFTLESS"
P.S. 1
Nini lies on the floor calling for mom all day long.
14
14
"PRANKS"
P.S. 1
Pop Pop plays a few pranks on Nini, and we learn where she gets it from.
15
15
"SNOT"
P.S. 1
Small children are pretty gross...
16
16
"TRAINER"
P.S. 1
Nini describes a human, and by extension, a Pokemon trainer to Didi after seeing a Hiker in the park.
17
17
"SALUTATION"
P.S. 1
Arnie attempts to introduce his daughter Nini to Miss Schragis, the neighboring Noctowl.
18
18
"HEADSTAND"
P.S. 1
Andy and Randy do a headstand to impress Nini. Turns out, it catches on.
19
19
"STIMULATION"
P.S. 1
A look into what Nini and Didi get out of video games.
20
20
"SAUSAGE"
P.S. 1
Arnie makes his greatest creation, exotic sausages, so that the children will eat his cooking.
21
21
"PARROT"
P.S. 1
Pop Pop has an accident, and swears without knowing Nini is around to hear it. Later, Nini reports it back to her siblings, who mindlessly parrot it.
22
22
"CONCERN"
P.S. 1
Dori innocuously shows concern about how Nini doesn't behave the way other eight year old girls traditionally should, at least according to her.
23
23
"BEAVER"
P.S. 1
Nini convinces Didi that she's a beaver.
24
24
"SMOKEHOUSE"
P.S. 1
Nini and Didi get trapped in the smokehouse.
25
25
"AVOIDANCE"
P.S. 1
Continuation of SMOKEHOUSE. Nini avoids her mom by getting dad to help instead.
26
26
"DENTIST"
P.S. 1
Oni's fear of the dentist creates a scene.
27
27
"HANDSHAKE"
P.S. 1
Arnie is starting to think having Nini greet people isn't such a hot idea.
28
28
"TWINS"
P.S. 1
A montage of Andy and Randy being rambunctious twins.
29
29
"SNACKS"
P.S. 1
Didi wants snacks, and she might be just adorable enough to get them
30
30
"GUTSY"
P.S. 1
A coyote threatens the kids while they play, but Nini protects her siblings at all costs without thinking, and based purely on adrenaline.
31
31
"WORDS"
P.S. 1
In a parent-teacher conference, the teacher berates Nini for her behavior. However, although the tone is harsh, the words themselves seem familiar...
32
32
"APOLOGY"
P.S. 1
Bottled up emotions from "CONCERN" finally surface.
33
33
"BRACELET"
P.S. 1
Nini creates a friendship bracelet for the most special person in the world, her sister Didi.
34
34
"GIFT"
P.S. 1
Nini is a gift to the family, but the family may just have a gift for her...
Second Production Stories
| Episode Number | Set Number | Title | Production Set |
| --- | --- | --- | --- |
35
1
"VROOM"
P.S. 2
Nini asks why her mom listens to classical music with Nora, and Dori explains how she's done it with everyone.
36
2
"SING-ALONG"
P.S. 2
Oni, Andy and Randy twist and bounce happily to music as toddlers often do.
37
3
"BEEP"
P.S. 2
Oni, Andy and Randy ride trikes and ride on cars indoors much to Pop Pop's disapproval.
38
4
"LEECHES"
P.S. 2
As Dori nurses Nora, she is filled with terror as a trio of gnawing toddlers appear.
39
5
"WHISTLE"
P.S. 2
Nini calls a bird with a whistle, and Didi wants to learn.
40
6
"CEREAL"
P.S. 2
Nini asks Didi if she wants more cereal, but she may get more than what she agrees to.
41
7
"CHEATER"
P.S. 2
Nini hopes that someday she can roughhouse with the boys, as Didi cheats in a way that only she can.
42
8
"BOMF"
P.S. 2
Nini tries to show Pop Pop what she learned in Karate by doing a flying kick.
43
9
"PRETEND"
P.S. 2
Didi acts like Mario during recess, as opposed to usual play. This is seen as a bit unusual.
44
10
"'DOMESTIC"
P.S. 2
Nini and Didi wonder why they live like humans, while other Pokemon live off the land.
45
11
"GLASS"
P.S. 2
Didi attempts a scientific experiment, however, she's too small to be handling large glass jars...
46
12
"VINEGAR"
P.S. 2
Didi successfully makes a rubber-like egg as her next experiment.
47
13
"WAND"
P.S. 2
Arnie buys the wrong wand for Didi, and she let's him know about it.
48
14
"SPRITE"
P.S. 2
Didi pretends to be a woodland sprite. Nini and Oni play along.
49
15
"SHEDDING"
P.S. 2
The result of Nidoran shedding...
50
16
"MOPHEADS"
P.S. 2
Dori says it's time to get the boys a haircut, but Didi tries to plead against this.
51
17
"BARBER"
P.S. 2
Andy and Randy get haircuts, much to Didi's dismay.
52
18
"ALIEN"
P.S. 2
Nini convinces Didi that she's an alien.
53
19
"FLOAM"
P.S. 2
Excited, Nini obtains some Floam and tells Didi all about it, but it's not what they expected.
54
20
"PROWL"
P.S. 2
During the late hours of the night, Nini hears something prowling about outside and immediately takes action.
55
21
"INCIDENT"
P.S. 2
Trying her best to protect her family, everything goes wrong for Nini over a series of very close incidents.
56
22
"AFTERMATH"
P.S. 2
A continuation of "PROWL" and "INCIDENT", Didi and Nini are unable to sleep, and need to decompress after everything that has just happened.
57
23
"GOOFBALL"
P.S. 2
Nini entertains her siblings by doing what she does best: acting like a goofball.
58
24
"CRAWL"
P.S. 2
In order to avoid patronizing small talk, Nini pretends to be a baby to get around a Pidgeotto client that Dori has brought over to the house.
59
25
"GAK"
P.S. 2
Although Floam may have been a disappointment, the pranks that Nini and Didi are able to play when they obtain Solar Gak make up for it.
60
26
"PLANETARIUM"
P.S. 2
The Schneider family visit the planetarium for the day.
61
27
"BRANDING"
P.S. 2
Arnie looks into ways to rebrand his business.
62
28
"SNOW"
P.S. 2
Nora's first snow.
63
29
"WHITE"
P.S. 2
Didi hopes to get Nora to see the beauty of a snow covered landscape.
64
30
"STORYTIME"
P.S. 2
It's hot chocolate and storytime with Arnie!
65
31
"CATERING"
P.S. 2
Arnie delivers some big news to his family in regards to his catering job.
66
32
"FATHER"
P.S. 2
Pop-Pop and Arnie go out together to cater the holiday party at the bank, but things go wrong along the way.
67
33
"HYMNAL"
P.S. 2
Nini and the rest of the choir kids sing Christmas carols at the church.
68
34
"CASSETTE"
P.S. 2
Nini gives everyone a personalized message and song on a cassette for Christmas.
69
35
"365TH"
P.S. 2
The family is together the moment when New Year's Eve passes into New Year's Day.
70
36
"OUTING"
P.S. 2
Dori and Arnie are going out for date night, and have invited Ira over to babysit, much to the childrens' chagrin.
71
37
"GRANDMA"
P.S. 2
Ira is delighted to see her grandkids once again, but the Schneider children seem to be on edge...
72
38
"ADORIBLE"
P.S. 2
Arnie and Dori visit a special place connected to their past.
73
39
"2P"
P.S. 2
Didi plays pretend Mario again, and another kid wants to join in.
74
40
"QUARTER"
P.S. 2
Nini pulls a quarter out of Oni's ear, much to her amusement.
75
41
"SPOOKED"
P.S. 2
Nini tries spooking Didi while she sleeps.
76
42
"OVERBOARD"
P.S. 2
Didi pulls a stunt that's met with nothing but disapproval, especially from her idol, which cuts her the deepest.
77
43
"INDIVIDUAL"
P.S. 2
Nini consoles Didi, telling her that what would make her happiest is if Didi grows up to be her own unique person instead of a carbon copy of herself.
Community content is available under
CC-BY-SA
unless otherwise noted.