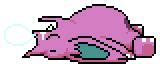 This page is a stub. Someday, it may become a fully fledged page. However, it may not. Who knows? I'm going back to bed.
This page is about Chuchu one of the three animal friends introduced in
Kirby's Dream Land 3
, as he appears in
Alternate Universe
. Chuchu is typically pleasant, but she can be temperamental as well. It's best not to aggravate her, as she can be dangerous when she flies into a rage. She also seems to be addicted to the internet.
Community content is available under
CC-BY-SA
unless otherwise noted.